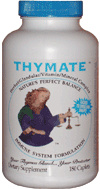 Thymate™ and the body's healing process
Thymate™ has been researched to address core health issues within your immune system. As the centerpiece of your speed healing, immune system boosting program, it gives results.


Protein debris from a trauma site in your body get into the blood flowing by and coat the normal cells. As these sticky cells stack and clump, they inhibit the blood cells from picking up oxygen and performing at their optimum capacity.


The area waste, swelling, and toxins will cause you pain and inflammation, slowing the healing process as they are trapped inside your tissues.


Thymate™ enables the sticky cells to free themselves of one another. With their clean surfaces, the cells are now free to perform their required duties of cleansing the body of the unwanted waste and delivering fresh oxygen and nutrients into the bloodstream.


Thymate™ addresses the nutrient support system and immune support functions which are both primary for regeneration of the strongest possible cells.


Having the capability of an optimally performing bloodstream enables any nutrients or prescribed medications being taken to perform at their most efficient capacity.


The stronger the immune system, the stronger the cells laid down.


Thymate™ specially formulated nutritional complex is specifically balanced to aid in achieving this intricate rebuilding process.


"You get sick from the inside out." "You become well from the outside in."


"To achieve maximum healing results, the bridge to rebuilding health must have all its crucial spans intact."


You are encouraged to pursue all avenues for optimizing the mind/body connection towards your goal of optimum health.
---
Thymates, Inc., P.O. Box 1205, Duluth, GA 30096 www.thymate.com
Phone: 770-623-4115 / toll-free:1-888-484-9628
Email: thymate@thymate.com
This information is for educational purposes only and is not meant to diagnose, treat, cure, or prevent any disease or disorder or to replace professional medical advice. Please consult your physician when using this and other food supplements. This literature may be reproduced in whole without legal ramifications