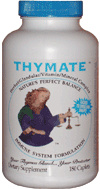 Frequently Asked Questions
Q. Can I take THYMATE with other prescription medications?
A. Yes, there are no known negative side effects.
Q. What is "natural pharmaceutical grade" versus "edible grade"?
A. Pharmaceutical grade meets higher standards of purity by being free of growth hormones, antibiotics, and chemical residues. Edible grade simply means "suitable as food for mankind."
Q. What about the manufacturing of THYMATE?
A. Mr. Callaway chose a 100 million dollar manufacturer with the latest state-of-the-art equipment, an impeccable reputation, and a Pharmacist as CEO.
Q. How do I know how many to take?
A. Six in the am, then six in the evening is the therapeutic dosage. Three twice daily is the maintenance dosage.
---
Thymates, Inc., P.O. Box 1205, Duluth, GA 30096 www.thymate.com
Phone: 770-623-4115 / toll-free:1-888-484-9628
Email: thymate@thymate.com
This information is for educational purposes only and is not meant to diagnose, treat, cure, or prevent any disease or disorder or to replace professional medical advice. Please consult your physician when using this and other food supplements. This literature may be reproduced in whole without legal ramifications